As Life Changes: Dave Ward's Story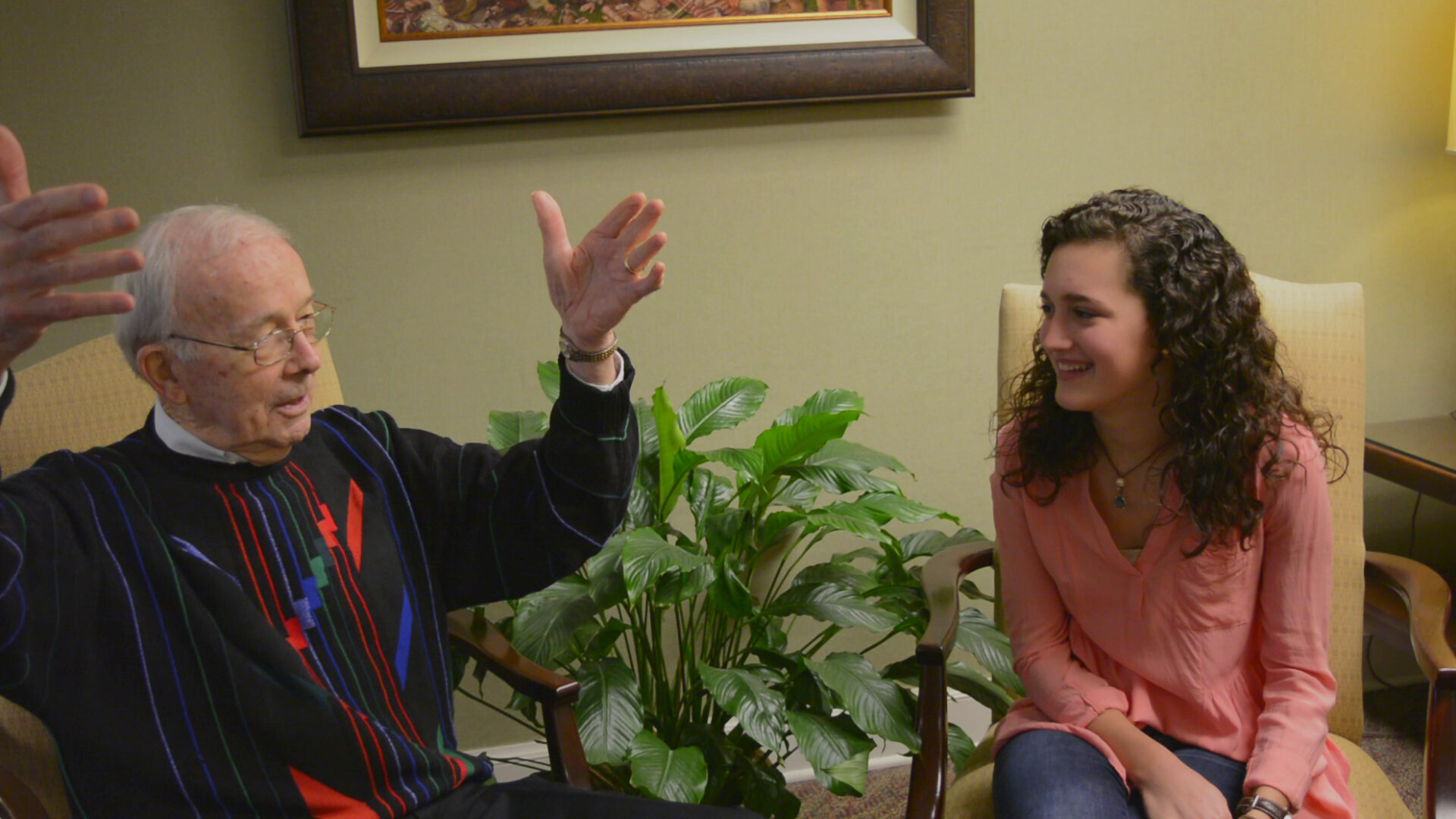 Dave Ward, First Baptist's Minister Emeritus, is iconic, having served as Minister of Seniors for 54 years. He and his lovely wife, Jo, have contributed immeasurably to the life and fellowship of our church. His life story is fascinating. The following interview provides glimpses into his early life and his journey to ministry and First Baptist.
Dave, when and where were you born?
I was born in Chowan County, North Carolina, the eastern part of North Carolina on the Virginia border. There were no hospitals in the area, so the doctor came to the house and delivered me. I had a sister who died and was buried on the Saturday before my birth. I was born on the following Monday, August 27, 1929.
My dad was born and reared on a farm, and I was born and reared on a farm. I went to a country school. My mother and father had six children in six years, but only four lived through infancy. I had an older brother who passed away four years ago and was six years older than my kid brother passed away last year. My surviving brother, aged 90, is two years older than me and now lives in Virginia Beach. I will be 89 in August of this year.
Do you ever return to your birthplace?
Whenever I am in Eastern North Carolina, I always take an hour or two to stop by and see families we knew. My mother's sister is 95 years old and is the last of my mother's family.
Tell me about your family's farm.
We had 300 acres under cultivation. We raised corn, cotton, soybeans, watermelons, and cucumbers. The family worked from first light to darkness. Very early on, all of us had chores to do. My earliest chore was taking care of the dog, a bulldog named Nick; and he also helped with the chores by getting in the hogs and cattle in the evenings. My older brother milked the cattle. You see, everyone on the farm had a job to do even if it was running a glass of water to someone; we all did everything that was needed to keep the farm going. We sold milk, butter, and cheese. We eventually sold the cattle.
Your family must have been very busy running a 300-acre farm. Did you have help?
My dad hired four black families, including their sons and daughters, who worked on the farm. Their presence was not an ownership thing at all. These families had a certain amount of acreage, and they could plant whatever they wanted. They owned their own hogs and cattle, so it was a family type of arrangement. The workers' children were our friends, and there was nothing about race in our relationship. I grew up not knowing anything about racial tensions. The worker kids were my playmates until we all got old enough to start doing chores. If I had a pop and they didn't, I would give them a drink out of my bottle. We knew no difference between black and white. If a black child was ill, my mother would crank up the car, the only one on the farm, and take the child to the doctor. She would stop what she was doing, no matter if a child had a headache or something more serious and take that child to the doctor. She would take anyone to town to see the doctor, to go grocery shopping, or to go to school. We were all one big family. We shared everything. If the workers did not have corn or it was going to come in late, we would offer them a mess of corn and a piece of ham to go with it. This was just as normal for us as I am sitting here talking to you. If a family didn't plant strawberries and they wanted some, we would tell them to stop by our field and help themselves to all the strawberries they wanted. We were happy and got along well, and there was nothing we wouldn't do for each other. If we had an ice cream supper, everyone was invited. One person would bring the salt, another the flavoring, we would furnish the eggs; and everyone on the farm would eat the ice cream. There was a strong spirit of camaraderie on the farm, and we knew that each of us made all of us who we were.
On Saturdays, we would work from sunrise till noon time and then all go to town and shop. However, if there was a crop such as peanuts that needed to be gotten in and just a couple days' time could mean the difference between a good or bad harvest, we would all work to get it in, no matter if it was our time off. Of course, things are different now; but these are all things I remember as a child.
On Sunday we would all dress up and go to our respective churches in the neighborhood. We would sometimes go to the black church and watch them shout. The black church would have usher marches. We were always welcomed at the black churches since we knew most everyone there on a first-name basis. My father respected all the churches; and when they had a revival, he would tell our help that they were to take time off and attend the revival.
How close was the nearest town?
It was Edenton, the county seat, which was about five miles away. That town was about 60 miles away from Kill Devil Hills and Nags Head, and we would deliver produce to the dock to be shipped by boat to Washington, D. C. and Baltimore. I remember very clearly loading the truck and then unloading it onto the ships.
Was your farm mechanized?
I was reared during the age of mechanization. I recall when the mules and horses were exchanged for a tractor. When I was a boy, we used mules and horses right up to about World War II. I remember when my dad got our first tractor. Of course, everyone wanted to see it. The tractor saved money. Instead of manning a plow and following it up and down the fields, the tractor did that.
What kind of church did your family attend?
It was a little church built in a cow pasture. It was open Sunday mornings and afternoons, and on Sunday nights we would have singing. If that church is still there, it would be a museum. All the local churches could not afford a preacher, so a local person would take the place of a preacher and perform the duties of a minister. That person would be a layman who could preach and say a prayer. Such a person was respected and was a part of the community and worked as a local businessman or some other profession. He would walk around the town and call on people to attend the church he was to preach in.
Was there prayer in your home?
Regrettably, there was not a pattern of prayer. When there was a problem such as illness, that was when everybody felt the need to pray and call upon the Lord. It was a matter of respect as much as it was a formal prayer.
What was your Christian awakening like?
My parents did not discourage our partaking in religion, nor did they encourage it. They were not what you would call religious people, but they took part in church activities. If someone died, we would help shroud them and help the caretaker at the cemetery.
My oldest brother was dating a girl who lived in town and who was somewhat religious and went to Sunday school and church regularly. I was fascinated to hear about what her church was like and the things that went on there. I told my parents that I would like to start going to that church because that is where my school friends were going. My parents encouraged me to go. We had a good Sunday school teacher, who would kid around with us. I soon was in a day-to-day relationship with that church and its social activities. If I missed, someone would ask where I was. I was part of a greater family. At the age of 11 or 12, I started to think that baptism was something I wanted. I saw my friends being baptized.
When did you first consider Christian service?
It occurred to me after I left the US Air Force. Two months after the military, Jo and I got married. I found that I enjoyed being around church people. Some people are not comfortable around church people, but that has never been the case with Jo and me. We had both completed college and decided that Christian work was how we wanted to make a living. We decided which seminary I should attend. I went to Southern Baptist Seminary in Louisville, while Jo continued to work and is still working to this day as a psychiatric social worker. I wanted to do something in the ministry that would count for something, but I did not want to be a regular pastor. I wanted to be a helpmate along the way of my service. I enjoy being around mature people, so ministering to mature church members is a good fit for me. As we age, our needs change; and I find fulfillment in helping meet the spiritual needs of our elderly members.
What brought you to Knoxville?
After seminary, my first placement was as an associate minister at First Baptist Church in Nacogdoches, Texas, where I served for two and a half years. We started our family there. Then we moved to serve at First Baptist Church in Corsicana, Texas, 40 miles southeast of Dallas. They needed someone to do what I did in Nacogdoches and to help the church grow. I later transferred to River Oaks Baptist Church in Houston, Texas, where I did the same work as an associate minister. It sounds like a lot of movement; but someone like me who was married, stable, and who had military experience was in demand to try to help churches grow.
A seminary professor with whom I was close asked if I had ever been to Knoxville and knew of First Baptist. He gave my name to Dr. Charles Trentham, who was also a graduate of Southern Seminary. We talked on the phone, leading to a visit here and a meeting with Dr. Trentham; and here I am. I knew who Dr. Trentham was before I came here since he was quite a spark plug in the [Southern Baptist] Convention, and it was a great honor to serve with him. Some people ask if I ever wanted to pastor a church, and I reply that my calling is to be a helper, not a pastor.
What was your position when you came to First Baptist?
I came here as an associate minister, a position which was formed to help Dr. Trentham, who had been here for 11 years at that time. (There was a part-time music minister and the pastor's secretary, but no one on staff for the University students although many were attending.) I was taking some of the workload from Dr. Trentham, and my job was to visit the elderly and keep them involved in our church. I have been doing so ever since. I have moved through life with many of our former members, as well as those who are still attending church here.
Do you recall when Bob Money came aboard?
Yes, I do. He came here about ten years after I arrived, and we became friends. He was from a farm in Alabama, and I was from a farm in North Carolina; so, we could talk the same language. We got along fine together, and he ministered to the families of the church and to the college students.
Do you consider this area to be your home?
Yes, there is a great sense of community and belonging here for us. We have been here now for 54 years. We find a great sense of peace here. Our oldest son lives here, and he will soon be 60 years old. Our other son is 58 and lives in California. Some people ask me if I will retire. I hope not because I want to continue to be of service wherever and however I can. When the time comes that I can no longer serve, then I will get out of the way so that someone else can serve in my place. You know, as life changes, we need to be able to change along with it, and that is a large part of my work here—helping elderly members through their changes in life.
Dave, thank you very much for sharing information about your interesting early life and your work here at First Baptist.
You are very welcome!