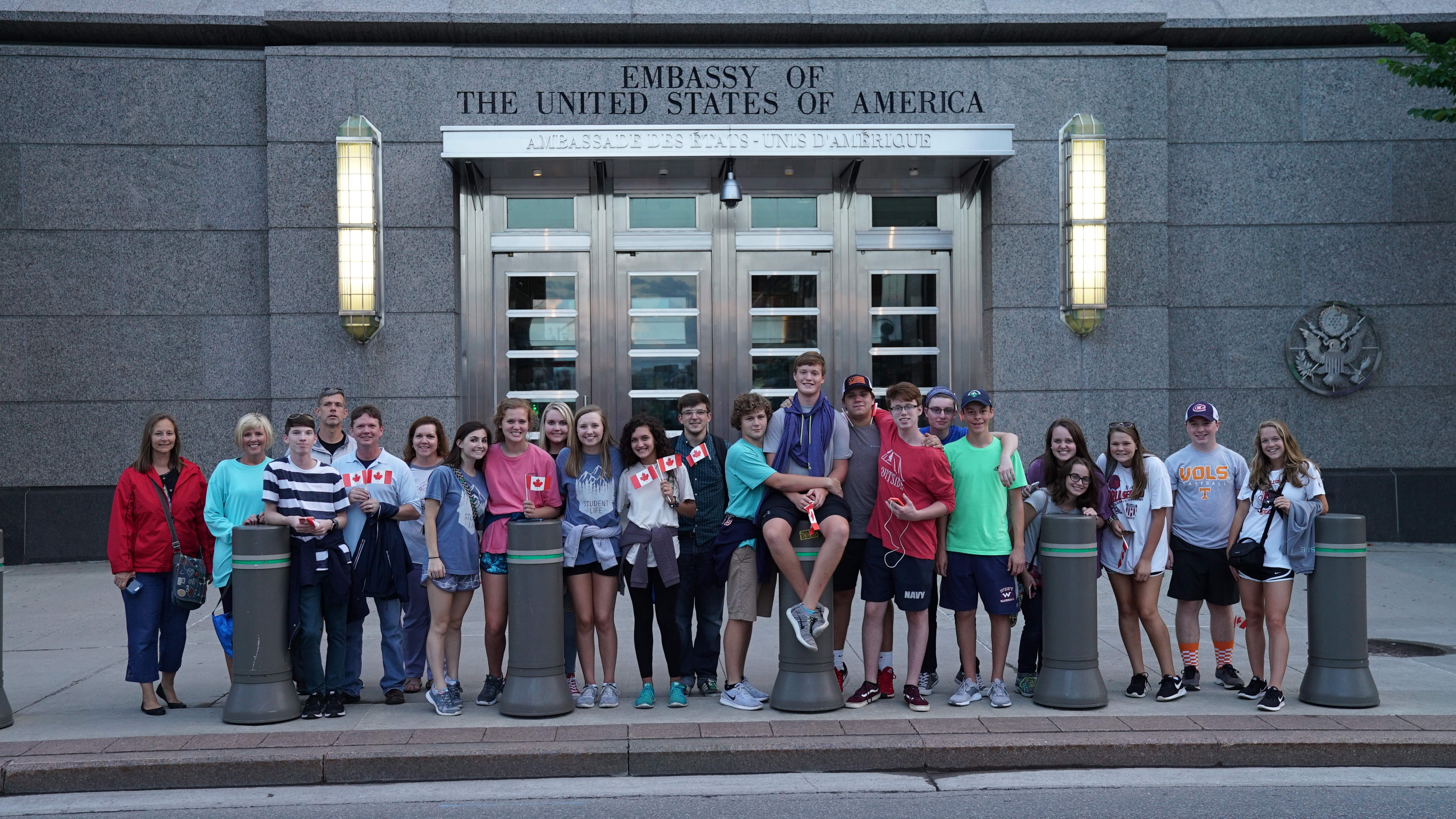 Our youth returned from their two-week mission to Canada last Friday. They were split into two groups between Ben Winder and Arthur Clayton and partnered with two organizations: Matthew House Ottawa's Furniture Bank and Refugee House and Église Chrétienne le Rocher's (The Christian Church of the Rock) Food Bank. A running theme of their trip was God shining through their incredibly hard work.
One team began at the food bank by washing 125 totes for food distribution. From there they sorted truckloads of food, traveled to six local farms to pick up fresh produce, then began portioning all the produce and food into 125 bags each for the 125 totes. 125 bags of parsley. 125 bags of potatoes, tomatoes, eggplant... You get the picture. The distribution process began at 3 pm on Thursday when food recipients began arriving.
The other team began working equally as hard in the Furniture Bank and Refugee House. Founded by our partner missionaries, Marc and Kim Wyatt in 2010, the Furniture Bank uses donations to provide home furnishing and household items to over 76 in need families a year (refugees or others). They spent the majority of their time in the Furniture Bank warehouse receiving donations and preparing items and furniture for delivery. They've also worked closely with clients, welcoming them and helping them select items.
At the end of the first week, the teams switched places, working with the other organization. In the midst of all their hard work, our youth kept their eyes on God and the purpose of their service.
Emma Denton was inspired by the passion of the Furniture Bank's Program Director, David Botha. David was himself a refugee from Zimbabwe, and he was initially served by the Matthew House through the work of the Wyatts.
"David is so generous with the clients," said Emma. "They have nothing, and he allows them to take what they need. He says 'We give what we can, and they get what they need.' That's really how the Kingdom should work!"
Emilie Guigou was particularly impacted by the lack of Christians in Canada. This was demonstrated by a woman who came to the food bank.
"She said that Christians from the U.S. are special Christians," said Emilie. "I didn't really understand what that meant, but she said she comes to the U.S. and just wishes she could move here to be with all the Christians. There aren't very many Christians in Canada. It's crazy. And it was a reality check for me. I knew there were places without Jesus, but I didn't realize it was so close to home."
Emilie learned that Christians in Canada are denied jobs and shunned by a large portion of the population. Christian churches even have to purchase the food used in food banks because no one will donate to them.
"It was heartbreaking," she said. "I'd never been out of the country, and I just take for granted where I live. It was just a hard reality for me, and it makes me want to go and do more mission work."
All of the youth were changed by their service in Canada. They worked hard, helping organizations who are committed to providing basic needs to their communities. But beyond that, the youth saw these organizations providing new beginnings and new life – hope in a place without the knowledge of Christ's love.
We are thankful our youth had this opportunity to grow in Christ and extend that love.