Dr. Fred Brown: "Great Heart of the Mountains" | pt 1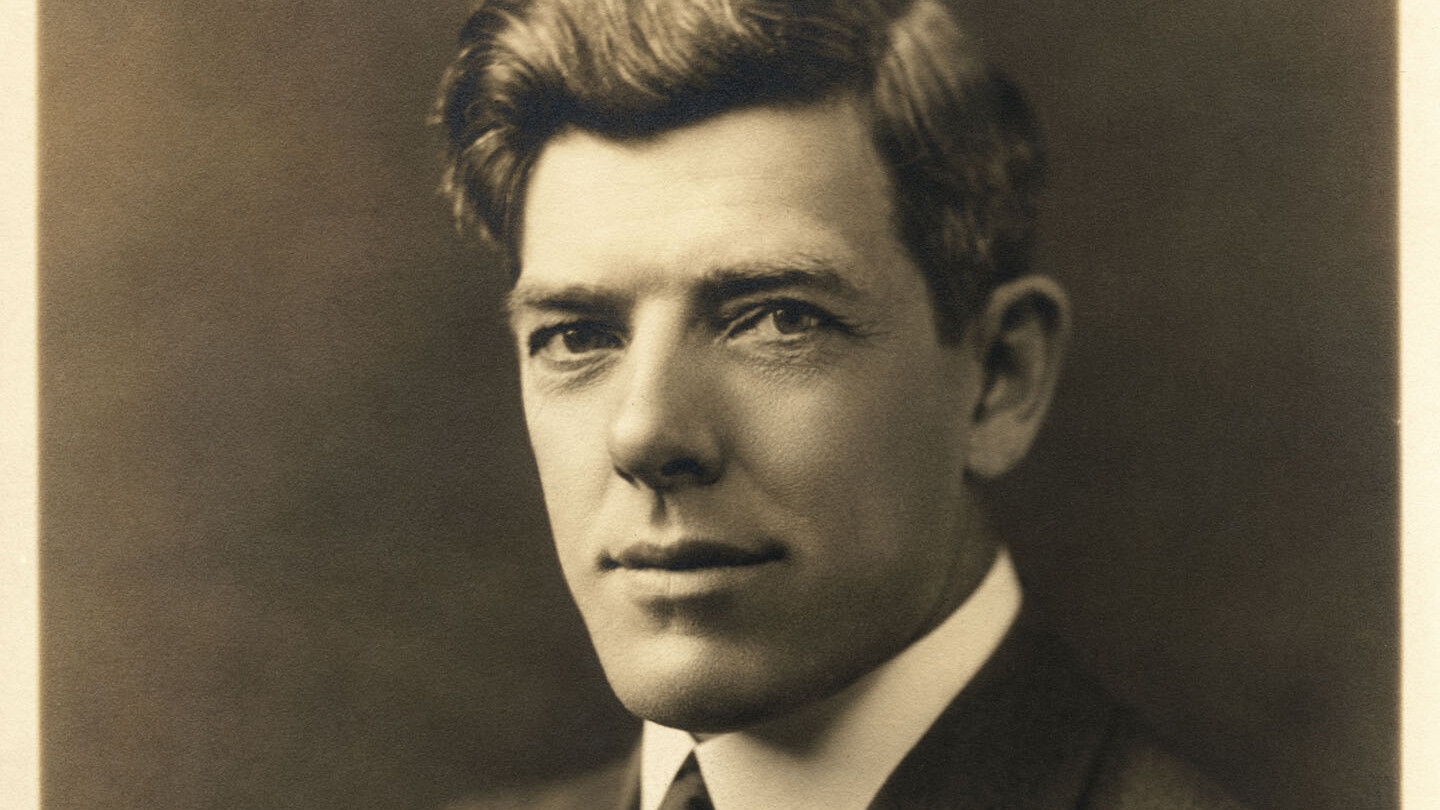 To hear Dr. Brown quote, 'I will lift up mine eyes unto the hills from whence cometh my help' was to hear the rich resonance of a man whose soul was in tune with the God of the mountains. (from the printed program distributed at the Fred Brown Chapel dedication service)
First Baptist's longest-serving senior pastor (1921-1946), Dr. Frederick Fernando Brown was among our church's most beloved ministers. During the celebration of First Baptist's 100th anniversary in 1943, Dr. Brown embraced the past, acknowledging the great men and women on whose shoulders our church was built. In our 175th year, we can turn to Dr. Brown's legacy for inspiration and hope as we acknowledge this man who contributed so much to our church, community, and denomination.
Early Years
In 1882, Frederick Fernando Brown was born in a cabin nestled in the heart of North Carolina's Blue Ridge Mountains. After attending a one-room school in a secluded mountain cove, Dr. Brown studied at a private school in Asheville and then later at Mars Hill College, Wake Forest University (where he was on the football and debate teams), and Southern Baptist Theological Seminary. During the five years after receiving his BA degree in 1908, he earned his MA, Master of Theology, and Doctor of Theology. Among the honorary degrees he was later granted was the Doctor of Divinity from Southern Seminary.
Dr. Brown began his ministerial career in 1910 in Kentucky. In 1916, he became the pastor of First Baptist Church, Sherman, TX. When President Woodrow Wilson requested that Dr. Brown serve as chaplain with the Allied Army of Occupation in 1918, the church in Sherman granted him a leave. Later, Dr. Brown wrote of his service in France. Delighted when asked to preach in a small village, he said that he had preached "on the ship deck, in hotel lobbies, in barns, in barrack rooms, sometimes out in the open; but [he] had not been in a church since leaving America." Of his experience in the small stone church, he wrote,
I was unable to read [the scripture] until I had brushed away the mist that dimmed my eyes and had gained control of my emotions. Tears were flowing down the cheeks of those strong men. In our minds, we were all home again!
After returning from WWI, he remained at First Baptist, Sherman until 1921.
Years at First Baptist, Knoxville
Dr. Brown preached at First Baptist on Gay Street for the first time on May 1, 1921, delivering a sermon titled "Loyalty to Vision." He later revealed that his knees shook when he stood before his new congregation. Yet, he served his church and denomination with distinction over the next 25 years.
Church Growth
A little over three years after Dr. Brown came to First Baptist, the $600,000 church on Main Street opened its doors with approximately 1200 members. On the Sunday that his 11th anniversary was observed, 26 members were baptized and 24 new members were received. A newspaper article acknowledging that anniversary was titled "Fred F. Brown Modeled as 'Ideal.'" During Dr. Brown's 25 years at First Baptist, 5,590 new members were added to the church roll, averaging more than 232 new members per year; and the church gave $1,707,457 to Baptist missions and institutions. When he retired, the membership was approximately 3,000.
Finances
His pastorate in Knoxville included the 1922 economic recession, the "boom and bust" of the late 1920s, the Great Depression of the 1930s, and WWII. During those financially stressful years under Dr. Brown's leadership, First Baptist never missed a payment to the bank or to denominational entities. Typical of his selfless service, Dr. Brown cut his own salary twice, once to avoid reducing a custodian's salary.
On discussing church finances, Dr. Brown once commented, "I don't raise money. I just talk about how good God has been to us, and people give money." However, Fred Kaserman, Dr. Brown's grandson and a current church member, reveals that he used additional tactics. For example, during a fundraising meeting, Dr. Brown rigged a wealthy church member's seat with a buzzer. Asking who would give the first $10,000, Dr. Brown pushed a button sending a small shock through the man's seat. When the gentleman jumped up, Dr. Brown thanked him and asked who would make the next donation.
Seeing the University of Tennessee as a mission field, Dr. Brown led the drive to build the first Baptist Student Union on campus. Speaking to the Tennessee Baptist Convention's Executive Committee, who had resisted the idea, he said, "If you do not build it, then our church will; and we will take the money from our mission funds and designate them to this student ministry." Driving a hard bargain, he knew that the state organization depended on the church's funds to pay its staff because First Baptist was the Tennessee leader in donations at the time. He likewise advocated building East Tennessee Baptist Hospital.
Denominational Service
Suffering from the Great Depression's devastating effects, the Southern Baptist Convention (SBC) was six million dollars in debt by 1931, posing a funding threat for missionaries and Baptist-sponsored institutions. That year, Dr. Brown traveled throughout the Convention's region from Maryland to Arizona as executive secretary of SBC's Promotion Committee. Preaching in "associational meetings, state conventions, local churches, and other venues, attempting to enlist one million tithers…," he became "the most-traveled man in the SBC, as the fiscal viability of the SBC and the lives of missionaries were held in the balance." Supporting Dr. Brown in this endeavor, First Baptist gave him a year's paid leave and a Hupmobile to drive. After returning to his pastorate, he continued promoting the effort to financially revive the SBC, working to the point of exhaustion and often speaking in a hoarse whisper.
Elected SBC's president for 1933, Dr. Brown was the youngest to hold that position. When asked about his feelings regarding his election, he answered in one word, humble, giving his wife and church the credit. Although he was unable to preach the convention sermon because of poor health, "the fruit of his efforts resonated … throughout the Baptist world."
Dr. Brown worked in many other denominational capacities including being a member of the board that organized what became the Southern Baptist Cooperative Program and serving as trustee of Carson Newman, Southern Seminary, East Tennessee Baptist Hospital, and Tennessee Baptist Orphanage. By the time of his death in 1960, he "had dedicated a half century to his Lord and his denomination." (Quotations in this section on denominational service are from The Sacred Trust: Sketches of the Southern Baptist Convention Presidents by Emir Fethi Caner and Ergun Mehmet Caner.)
(Ironically, Dr. Brown's conversion came during a "protracted" service, which was deemed a failure because only two people were converted. Yet his conversion and call to the ministry led to his success at the church level and denomination-wide.)