Dr. Fred Brown: "Great Heart of the Mountains" | pt 2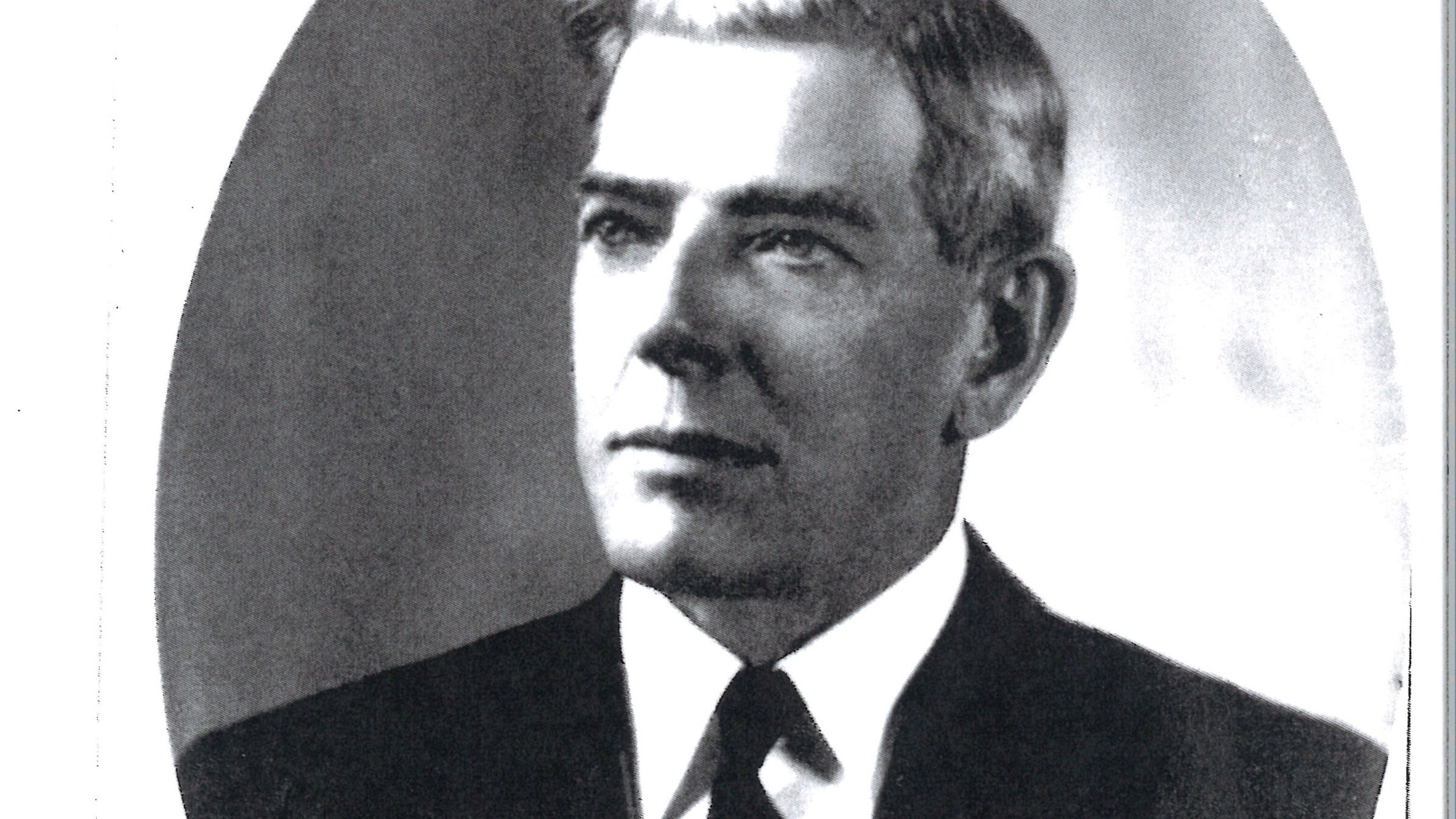 Knowing the Man

View of Ministry and Life Philosophy
When asked why he became a minister, Dr. Brown replied, "I couldn't help myself." Although he had originally planned to be an attorney, he realized during college that he was destined to enter the ministry and that he "would never be happy doing anything else."
In discussing his view of the ministry, he once said,

The preacher is the most privileged man in society. Every home is open to him, …. He has an opportunity to develop some of the most intimate friendships in the world. He can be of service to people in their times of greatest need.
At the time of his 19th anniversary at First Baptist, Dr. Brown described his ministry with humility and insight:
My ministry is just that of the average pastor who touches people passing through all kinds of experiences. … who stands in the pulpit, goes in and out of hospitals and homes where people are sick, marries daughters, stands by graves, and listens to people's troubles. A pastor's life is largely made up of experiences … where people are passing [through] great crises; and those experiences are new to every person they come to, and the preacher who cares never lets familiarity with the particular problem take away any of its reality.
Through his ministry, Dr. Brown lived out his life philosophy: "With moral courage, unfaltering faith, and tireless work, to discover life's meaning and to find self-realization in unselfish, sacrificial service in the name and spirit of my Saviour."
Mrs. Brown
Dr. Brown frequently acknowledged indebtedness to his wife, Nona Lee Dover Brown. Mrs. Brown was an exceptionally gifted Bible teacher, who was in demand within the church and beyond. (Fred Kaserman has said, "She was actually a better Bible scholar than Granddaddy.") She selected the scriptures adorning our sanctuary. As Fred Kaserman noted, the selection of those scriptures required careful consideration given the designated space.
Selflessness
In a message to the Men's Fellowship Club, Dr. Brown described a longing, which his ministry clearly fulfilled:
There is an unutterable longing in my heart to move—not away from Knoxville or First Baptist—but into the unbounded field of unselfishness. … serving in the name of Christ, serving among those with whom I live. … It is mystic and idealistic, yes; but it is possibly more real than anything we touch or handle in this world.
Rev. O. E. Turner, who served as associate pastor at First Baptist, said that Dr. Brown was "the most selfless, generous person" he had ever known, citing, among other examples, that on numerous occasions he gave his only overcoat at the time to a homeless person on the street. Other ministers recalled attending a funeral at which there were not enough chairs. Giving up his chair, Dr. Brown sat on the floor.
Dr. Brown also taught his children selflessness by example. After Dr. Brown's son expressed disappointment over not receiving a bicycle one Christmas, Dr. Brown announced they were going somewhere. Fred Jr. thought he was about to get his bicycle after all. Instead, they went to a riverfront shanty, where Dr. Brown conducted a baby's funeral. Afterward, Dr. Brown gently placed the baby in an orange crate and took him to be buried because the parents couldn't afford a burial. Fred Jr. never mentioned the bicycle again.
Upon learning about a young boy with a club foot who lived in the mountains, Dr. Brown arranged for him to go to Memphis to have his foot corrected and then went there to drive the boy home. When asked how he found time for his many good deeds, he replied, "What one wishes to do, he always does." In discussing Dr. Brown's attitude, Dr. Louie Newton, another revered Baptist minister, observed, "Love is like that. It finds a way and does not count the cost to self."
Far-Reaching Appeal and Impact
My greatest wish for my people is that we may have an old-fashioned, spiritual church, which, in a membership like ours, with some people who are wealthy and some the poorest in the city, one may feel as much at home in our service as the other, while I thank God for all of them! (Dr. F. F. Brown)
A church member recalled that Dr. Brown "had the ability to make everyone feel he was the one person in all the world he was most interested in—and it came straight from the heart."
In an article entitled "The Dean of Baptist Ministers," George Dempster provided additional insight by telling a story about Fred Brown serving as a student pastor in a country church. An orthodox Jew, who had loaned Fred college money, would go listen to him preach and stare out the window "when the sermon conflicted with his own faith." Concluding the story, Dempster said, "While neither the older Jew nor the young Protestant student ever influenced, in the slightest, the belief of the other, they remained fast friends. … [Fred Brown had the] ability to make enduring friendships with persons of all ages and in all walks of life."
Another factor contributing to the appeal of Dr. Brown was his insight into people. Recounting his experience as a chaplain during WWI, Dr. Brown noted, "I ate and lived with soldiers under all kinds of conditions. In those experiences, I learned that you cannot judge a man by the airy remarks and surface behavior. You must look deeper to find the real man." Regarding that comment, Rev. Turner observed,
He was always looking deeper; and in the worst of people, he had eyes to see the hidden splendor of God. They not only loved him for it, but it made them want to stand a little taller when they were in his presence.
After an interview with the beloved pastor in 1932, Frank H. Leavell summarized the secret of Dr. Brown's power and popularity:
It is a silent force. … From the strong character-fiber of the Southerner and the mountaineer, there has been produced by the polishing process of education and Christian experience a finished human product. …. refined and cultivated to the highest human polish. What are his characteristics? … rugged sincerity, unflinching loyalty, superlative modesty ….
Underscoring that "superlative modesty," Fred Kaserman recalls that his grandfather regretted not insisting that his congregants refer to him as Pastor Brown rather than Dr. Brown.
Described as "a rugged individualist," Dr. Brown was innovative in preaching on Saturday nights from the back of a truck on Market Square, long before Saturday evening services became a nation-wide trend. During a county-wide revival, a newspaper article entitled "With Truck as His Pulpit, Dr. Brown Follows his Master's Example" included a photograph caption referring to "hundreds of hearers, some leaning from poolroom windows, to heed the Gospel."
Fifteen years into his Knoxville ministry, Dr. Brown was called to pastor a church in North Carolina. First Baptist's deacons unanimously passed a resolution urging Dr. Brown to stay. An editorial entitled "Keep Doctor Brown" underscored Dr. Brown's impact on Knoxville: "There is little doubt but that every man, woman, and child in Knoxville and vicinity would raise their hands in favor of the question to keep Dr. Fred." Referring to the "widespread alarm expressed … throughout [the] city, and among all classes of [the] citizenship," the editorial ended, "We cannot afford to lose him." (Dr. Brown was known throughout Knoxville for not only his work at First Baptist but also his affiliation with many organizations including the Red Cross and the Community Chest.) Described as "the earnest and popular divine" of what was then Knoxville's largest congregation, Dr. Brown had requested time "to think and pray" about this call. Before he could finish announcing in a worship service his decision to stay, the choir and congregation broke into song: "Praise God from whom all blessings flow, …."
The following year (1937) he was named Knoxville's Outstanding Minister based on a poll of Knoxville ministers.
Of all that has been said and written about Dr. Brown's appeal, perhaps Rev. Turner summarized it best:
For two and half years, in the old church on Gay Street, for six and a half months in the Bijou Theatre, and for more than twenty years in the sanctuary [on Main Street], he preached to capacity crowds …. People came to hear him, not only because he fed their minds on the Word of God but because they felt the warmth of his spirit when he was preaching and because his chief appeal was always to their hearts. … Whether he was preaching before the Southern Baptist Convention or from the back end of a truck on Market Square, visiting in the most palatial home on Kingston Pike or in the poorest home on the river front, pitching horseshoes at a men's picnic or conducting a funeral, he was always the same Fred Brown.
Dr. Brown's influence also reached beyond Knoxville and the SBC. For example, during the Great Depression, Georgia's Secretary of Agriculture invited Dr. Brown to speak to thousands of farmers at a statewide convention to "lift their spirits with a warm-hearted sermon about God." In a three-week speaking tour for the Northern Baptist Convention, he "thoroughly captivated his Northern audiences with his pathos, humor, and inspiration." In 1940, Dr. Brown delivered the invocation before President Roosevelt's address dedicating the Smoky Mountains National Park at Newfound Gap. His prayer acknowledged the setting:
Here, where all of our surroundings speak of Thee—Thy infinite power; Thy infinite wisdom; Thy everlasting love; Thy steadfast, enduring purposes—here it is easy to lift our thought to Thee … we pray that something of the massive strength, the varied beauty, and the serene nobility of these majestic mountains may slip into our feverish, restless spirits, bringing poise, peace, and outlook.
Humor
Dr. Brown was known for his sense of humor and for being the source of humor as revealed in various accounts.
Shortly after Dr. Brown arrived in Knoxville from his church in Texas, the deacons hosted a dinner for him at a local hotel. During dinner, some strangers entered and began shooting, driving the Baptists under tables. Later discussing the incident, he quipped, "…it made me feel right at home. I come from Texas!"
He good-naturedly served as head waiter at a WMU dinner. At the end of the evening, the ladies presented him a $1500 "tip" to cover expenses of his upcoming trip to Stockholm for the Baptist World Alliance. While in Stockholm, Dr. Brown wrote to a church member, "The only familiar language I've heard since I landed was a Ford automobile horn and a baby crying—both of those noises were in plain English."
Fred Kaserman recalls that his grandfather was not a very good driver. He would drive with his left hand on the wheel and his right hand flung over the back of the seat while turning his head to talk with his passengers. When riding with him, Fred always kept the door unlocked, clasping the handle in case he needed to exit quickly. On one occasion, Dr. Brown and a friend were traveling to the same city, but declined traveling together because they didn't trust each other's driving. Upon arriving in their separate cars, they crashed … into each other!
In discussing fishing, Dr. Brown said, "I have learned how to fish, but not how to catch fish!" He assured an interviewer that "his fishing exploits [hadn't] influenced his capacity for truth and veracity at all."
One night, the Browns heard a burglar downstairs. After Mrs. Brown arose from bed to investigate, she returned, saying she had locked the burglar in the basement. Responding that it was cold down there and that the intruder would freeze, Dr. Brown told her to go let him out.
Dr. Brown's humor in dealing with people is illustrated in an incident described by Knoxville's long-time journalist Bert Vincent. Two men had run for City Council in a hard-fought battle, resulting in the two not speaking to one another. Dr. Brown was determined to resolve their hostility. The two men attended a Red Cross luncheon, where Dr. Brown had arranged to sit between them. After eating, he stood; pointed to a large red cross on the wall in front of them; and said, "Right now is a good time to forget it, boys. Right here at the foot of the cross. Suppose you shake hands." The men clasped in friendship and from then on greeted each other cheerily by their first names.
Tireless Dedication
Dr. Brown was tirelessly dedicated to his congregation. In 1927 alone, Dr. Brown's efforts included 931 visitations (with the sick, the elderly, and both new and prospective members); 89 addresses; 56 funerals; 54 conferences; 48 weddings; and more than 1,000 hand-written personal notes. (Dr. Brown's correspondence with his congregation included birthday cards to children 16 years and younger as well as anniversary, congratulatory, and sympathy notes—handwritten and signed, "Your pastor, F. F. Brown.") The list of activities in 1927 does not include the three regular services each week, church committee meetings, and other church functions—all within 10 months because Dr. Brown was ill the other two and unable to work. That same year, he also began devoting four hours a week to "spiritual welfare conferences" for those needing one-on-one time with him.
During his voyage to Stockholm for the Baptist World Alliance in 1928, he wrote, "Great trip, calm sea, four days of fog …. I haven't been so relaxed in 15 years … am resting, resting way down deep." Yet, in the next sentence, he added, "I have written a big stack of cards to the members of the church which I am sending back to New York by a sailor to be mailed." Later, Rev. Turner observed, "Every member of the church received a personal note from him while he was on that trip. But he was 'resting, resting way down deep!'"
Dr. Harry E. Fosdick of NYC's historic Riverside Baptist Church once observed Dr. Brown was "burning the candle at both ends." Dr. Brown responded, "I had rather burn out than rust out."
Speaking at Dr. Brown's funeral, Rev. Turner described yet another example of the beloved pastor's dedication to his congregants:
More than once I have heard it said of his preaching, 'I could tell by Dr. Brown's sermon this morning right where somebody called on him for help.' But people loved him all the more for his unfailing interest in their personal welfare, and what he did say in his sermons meant far more to them than a more finished sermon could have meant without his devoted attention to their personal needs.
Timeless Messages
The following excerpts reveal the enduring quality of Dr. Brown's messages:
Advice to Young People
"Try to think of yourself at the close of life, and make the decisions now that will stand the test of the years and be satisfactory to you and to Christ when life is ended. Let this thought control, as you decide what you will be and what you will do."
In describing a Christian character, he emphasized that "numerous qualities stand out: faith, integrity, courage, simplicity, love, a worthy purpose, and hard work."
Returning to Prosperity
In an article entitled "Spiritual Recovery Must Precede Any Return to Prosperity," based on Matthew 6:33, Dr. Brown admonished his audience:
To our modern world—to us—[Christ] is saying, 'You've tried everything else. Put the Kingdom first.' … I think it is well for us to recognize that there will never be any permanent economic recovery until there is first of all spiritual recovery, …. the recapture of the great centralities of Christianity—faith in God; loyalty to Jesus Christ; confidence in each other; respect for personality; reverence for God, for His Book, for His Day; a sincere Christian attitude …. These are old-fashioned, but they are indispensable and fundamental.
The Role of the Christian Home
In preaching "The Home as an Elim," based on Numbers 33:9, Dr. Brown explained, "In the plan of God, the right kind of a home is a 'brook by the traveler's way,' a spring in the desert of life, an unfailing fountain by the wilderness path." He ended with these instructions:
Build a home … where love lights the fire and ministers at the hearthstone—a home where God is worshipped, where Christ is enthroned. …. where parents and children with mutual faith and love and service find their souls replenished and invigorated. Yes, build it—for it is one of God's Elims without which we cannot make the wilderness journey
Dr. and Mrs. Brown created such a home for their son and four daughters. (Their family eventually grew to 17 grandchildren and more than 30 great-grandchildren.)