Emerging from the Ruins of War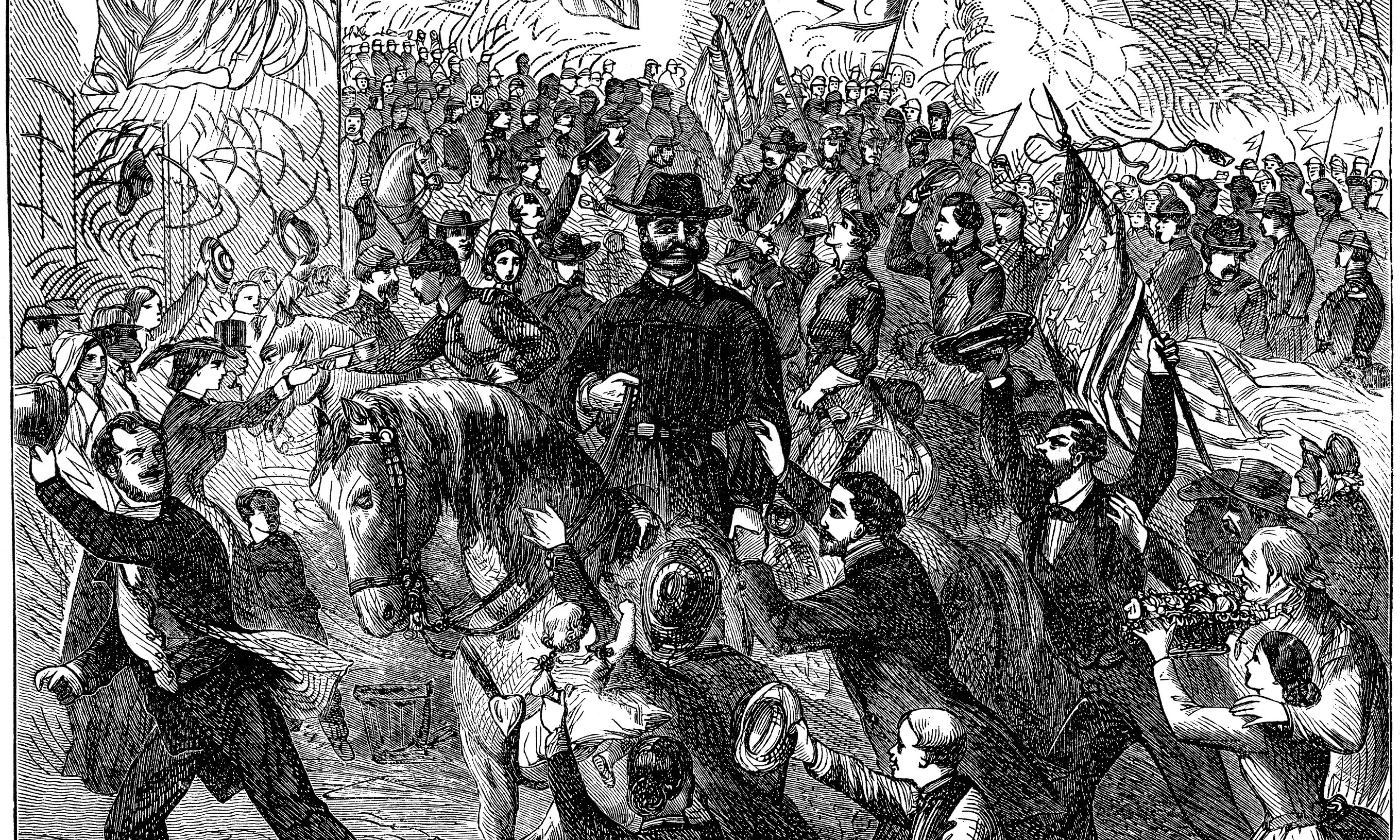 Describing Knoxville in the Civil War's aftermath, historian Jack Neely noted, "Progress was slow, especially at first. With its raw trenchwork, muddy streets among shot-scarred and army-abandoned buildings, postwar Knoxville could appall some visitors, who remarked that Knoxville appeared to be, 'in a manner finished.'" Among those buildings was Knoxville Baptist's church house with its unusable sanctuary and missing pews.
Knoxvillians faced desperate times resulting from epidemics as well as food and housing shortages with freed men flocking into town. The opposing forces' bitter hostilities also lingered. One writer noted, "Those who had recently worked and sacrificed to slay one another could not immediately learn to pray, worship, and work side by side in brotherly harmony."1 According to church historian, E.E. McCroskey, the reorganization efforts during the three years after the war were of "social and political conditions first, and church interests afterwards."
Nevertheless, a small group began holding prayer meetings in the Baptist church's basement in 1865. In May 1866, an interdenominational Sunday School convened but was reorganized for Baptists later that year. The following year, Captain William Woodruff, a new member and a Union veteran, became the Sunday School superintendent, thus beginning his long history of church involvement.2 Other efforts were made to revitalize the denomination in town. At the close of a one-week revival to rally Baptists in February 1867, "the banks of the Tennessee River once again echoed with the sounds of hymns as its waters were disturbed by the baptismal ordinance."3
Reoccupying the church house was fraught with difficulties. An article entitled "Hogs Quartered in First Baptist Church During the War Left Plague Behind," published in 1923, describes hogs being chased from the basement, leaving fleas behind.4 The article recounts the first Sunday morning gathering after the war: "Nearly everyone in the congregation was scratching …. The white hose worn by some of the women … were so thickly covered with fleas that all looked polka-dotted and some looked black, as some remember it." Afterwards, the response was to do what Baptist churches do—a committee was formed. When various concoctions failed to combat the fleas, the problem was finally remedied by flooding the basement.
The church's post-war years were marked by a series of short-lived pastorates. The church was officially reorganized in November 1866, when Dr. S. H. Smith agreed to serve as interim pastor. In the fall of 1867, Dr. Smith retired. In February 1868, Reverend D.M. Breaker answered the call as pastor and served for a year while he and his family lived in the church basement. In June 1869, Reverend Frank Johnson was hired, but was asked to resign in November because of "inadequate support and a lack of unity," according to church minutes.
Amid this instability, division within the membership caused some to leave and form Second Baptist Church in 1869. (Thus, Knoxville Baptist's name was changed to First Baptist Church in December of that year.) However, the quarrel5 that divided the church was resolved in 1870, with the congregations reunited in harmony. Among the many resolutions identified in the church minutes are the following: "… we will mutually forgive and forget any injuries, real or supposed which we have sustained …. Let us therefore ever manifest toward each other … a spirit of love and forbearance remembering that we are but humans." Dr. Joseph Lloyd's arrival in January 1870 resulted in more stability.
Financial obligations burdened the church and slowed restoration. Before the war, the church had borrowed $700 to pay on the church debt; afterwards, a lawsuit sought the loan's balance plus $500 interest. In September 1867, the church trustees adopted a resolution "to obtain an appropriation [of $1,200] from the Quartermaster-General U.S.A. for damages … caused by the United States soldiers when they occupied the church building." The following month, the $1200 in reparations was used to retire the church loan, leaving no money for sorely needed repairs. That same fall, however, church co-founder John Moses, who had left during the war when his house was burned, returned with a New Hampshire church's $800 donation for church repairs, including painting and plastering the interior and purchasing a new pulpit.
To help fund additional improvements, the church sought various revenue sources. Church minutes during the post-war years refer to soliciting subscriptions, "as much as … every member felt disposed to give." A Strawberry Festival, which generated $465, was held in June 1870 in the sanctuary from which all furniture was removed. Church historian E.E. McCroskey, writing in 1903, provided details: "Some features of this entertainment would not be considered entirely orthodox …. The 'Post Office' feature was very entertaining but was altogether void of any spiritual, helpful influence, though not totally bad. A brother contributed a sewing machine, and the manner in which this machine was disposed of, in the amount of $100, would not be recognized … as altogether legitimate. Yet the 'festival' went on for two days and two nights uninterrupted." McCroskey explained that he provided those last details "with the purpose of showing … the decided gain that has been made in church morals, and to express the hope that the improvement … will be still marked and continuous." This event was so well attended that it continued at strawberry-picking time each year until no longer profitable.
The church minutes provide other noteworthy information about 1870. In June of that year, church co-founder James Moses died at age 53. Extensive comments, such as the following, reflect the respect he had earned: "…we who survive are thereby called to greater diligence and faithfulness in view of the serious loss sustained by his death." The minutes also reveal improvement efforts, including organizing a committee on pew cushions, remodeling the pulpit, and reducing the pews' backs because "they were so high that one would have to sit in a strained position to see over them."6 Other enhancements were a chandelier "for the center of the house," gas fixtures placed on each side of the pulpit, and a new communion service.7 In addition, plans were initiated to construct a pair of two-story buildings in front of the church, which sat 25 feet from the street, with a church entrance between them. Captain Woodruff funded those buildings and was reimbursed from their rent. A dispute over taxation arose; but the church taxes were rescinded in 1873 because the rental proceeds were for benevolence funds. Plans were also underway to fund a mission in North Knoxville.
In 1861, the year the Civil War began, the church's enrollment was 130; by 1864, only 9 or 10 members could be located, indicative of the war's effect. Five years after the war, membership had grown to 118. Under Rev. Lloyd's leadership, the church had 166 members in 1872.8 Rev. Lloyd preached his retirement sermon in January 1873 to a congregation who had survived the atrocities of war and many other struggles. First Baptist, like Knoxville itself,7 was positioned for greater growth and a brighter future.
---
1Cecil Egerton, 1960 thesis, A History of the First Baptist Church—Knoxville, Tennessee
2During his tenure, denominational literature was introduced, and enrollment grew with an average attendance of 250 in 1875, when he retired.
3Cecil Egerton
4Even with an anti-hog ordinance as late as 1875, "hogs were still walking the streets with impunity"(Jack Neely).
5Although this quarrel was unexplained in the church minutes, researcher Cecil Egerton speculated in 1960 that it could have been a denominational dispute, common to the period. However, in 1992, church historian Nancy Siler attributed it to Rev. Johnson and "lack of unity." Another factor might have been lingering resentments regarding the war.
6E.E. McCroskey
7A letter provides additional images of the church's sanctuary: "I recall the bucket of water with the tin dipper, which sat up near the organ …. The old church had a center block of seats, with an aisle on each side, then on seats to the left as one entered the church (facing east) sat the men, and on the right sat the women. In the center block of seats, they really did sit together!" (Mrs. J. Jones to Dr. Fred Brown)
8According to the U.S. Census, Knoxville's population grew from 5,300 in 1860 to 8,682 in 1870.