First Baptist - Mother of Mission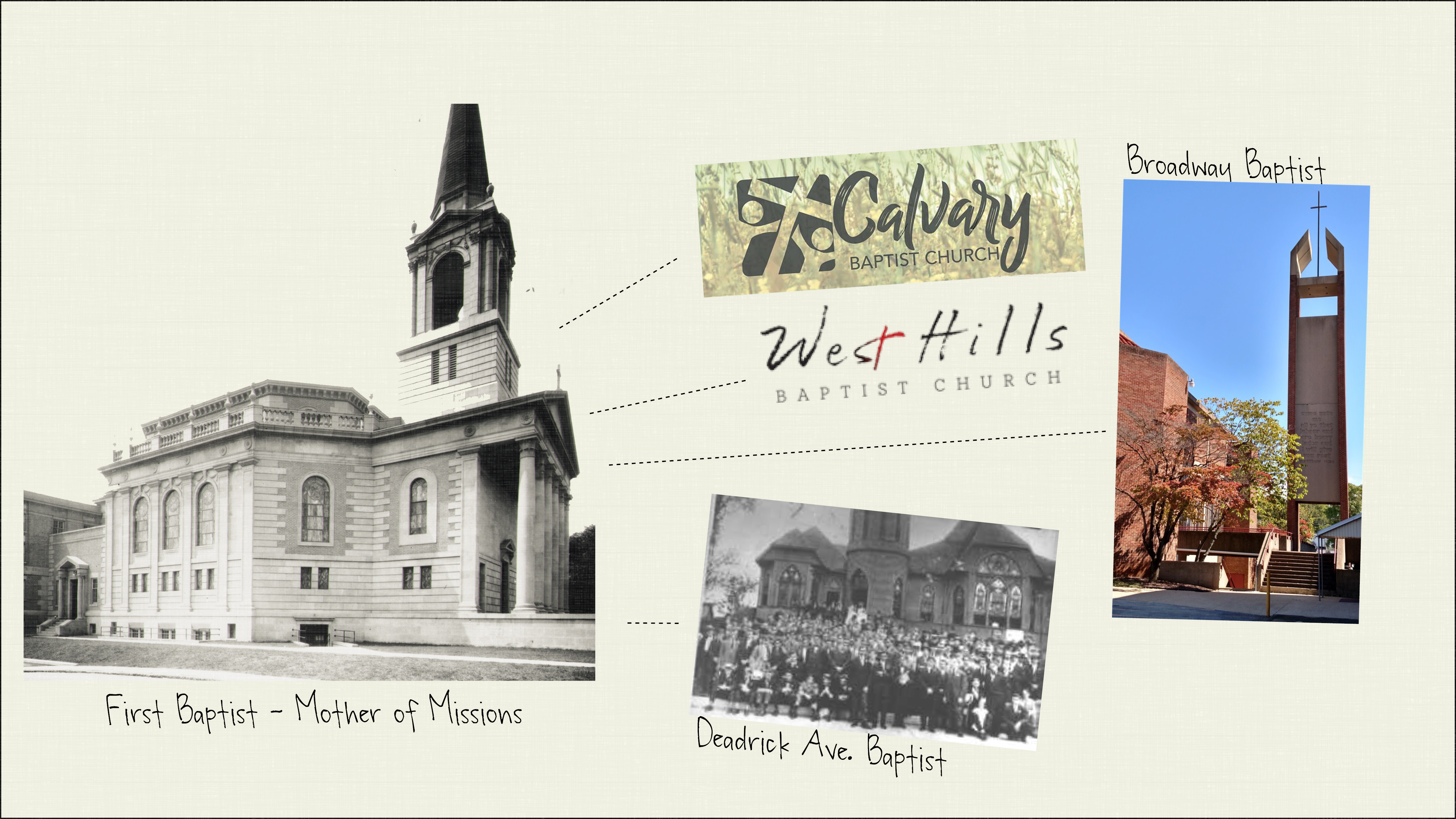 First Baptist Knoxville began as a Child of Missions yet quickly evolved into a Mother of Missions. Through its mission work, First Baptist Knoxville started four major area churches: Broadway Baptist, Deadrick Avenue Baptist, Calvary Baptist, and West Hills Baptist.
Broadway Baptist: In the summer of 1870, First Baptist Knoxville rented the Caldwell School house for six months in what was then North Knoxville. A year later a lot was given by Col. Charles McGhee for a mission chapel. In 1881 W. W. Woodruff, a member of First Baptist Knoxville, gave the new mission deeds for two lots on Broad Street to build a mission church. In the years 1882-1883, First Baptist Knoxville continued to raise money to support a Sunday School, prayer meetings, and the employment of an Assistant Pastor at the Broad Street Mission.
In 1884 a decision was made to organize an independent church, instead of a mission, and the State Mission Board was asked to send a missionary to the North Knoxville field. The Board agreed to send a missionary, i.e., the Reverend O. L. Hailey of Aberdeen, Michigan, and to contribute $500 toward his salary if First Baptist would match the monies. The church raised the money, and Reverend Hailey became the first pastor.
In 1885 First Baptist granted 28 members a joint "letter of dismission" to join the church. Broadway Baptist was officially organized in 1885 with 53 members.
Deadrick Avenue Baptist: In 1888, with the new church on Broad Street well under way, First Baptist Knoxville began collecting money to establish another mission in a new area. They collected $140 and then decided to wait a little over a year for the next step. A mission Sunday School was organized in April of 1890 at the home of Alexander Meek on 1200 Asylum Street. The group met for a while in a storeroom and elected Reverend J. Pike Powers as Superintendent. In 1891 First Baptist assumed responsibility for the mission and called it the Asylum Street Baptist Mission. Once again W. W. Woodruff provided a lot for building a church on Deadrick Street. In addition, he provided two dollars for every dollar raised for building a church. A church organizational meeting was held at the mission on September 13, 1892, and the church was to be called Centennial Baptist Church. Members from Second Church, Third Church, Mt. Olive Church, and East Knoxville Church attended the meeting. In 1905 the name was changed to Deadrick Avenue Baptist Church. Four years later the church was destroyed by fire but was rebuilt. For many years the church enjoyed a "prosperous condition" with a membership of 1,400 and celebrated a Golden Anniversary in 1942. Unfortunately, the church is no longer in existence.
Calvary Baptist: In 1907 First Baptist Knoxville was considering a mission Sunday School at either Circle Park or East Mabry street. Both were desirable locations. Two years later the church purchased a lot for $425 at the corner of 12th Street and Cornell Avenue for the purpose of establishing a mission church. This church was to be called Calvary Mission. In 1911 Calvary Mission became Calvary Baptist Church. This was the beginning of the present Calvary Baptist Church now on Kingston Pike.
West Hills Baptist: As early as 1956, several Baptist ministers in the Bearden community were suggesting a new church be established in West Hills. First Baptist Knoxville organized a Sunday School and provided financial needs for the church. The first service was held in the West Hills Elementary School on October 4, 1959. There was a strong nucleus of First Baptist members in the West Hills neighborhood, and they quickly joined the new church. Eight acres of land was donated by the Schubert and Ellison families who were First Baptist members. First Baptist Knoxville gave thousands of dollars directly to the building of the church and supported a building loan. West Hills Baptist Church was recognized as an independent church in 1961 and celebrated its second anniversary in the handsome new building on Winston Road where it is today.

Other children of the Mother Church also included Bell Avenue, Ninth Ward Mission, Athens, Meridian, and Peoples Tabernacle.
References:
Nancy J. Silers's "First Baptist Church, Knoxville, Tennessee 1843-1993," published by First Baptist Church, Knoxville, Tennessee in 1992.

Dr. Charles A.Trentham's "A Fountain-Head of Hope - A Story of a Hundred Years of the Mission Work of the First Baptist Church of Knoxville, Tennessee". It is estimated that this document was written in the late 1970's or early 1980's. Dr. Trentham was the pastor of First Baptist Knoxville from 1953 to 1974.