First Notes From Pastor Brent McDougal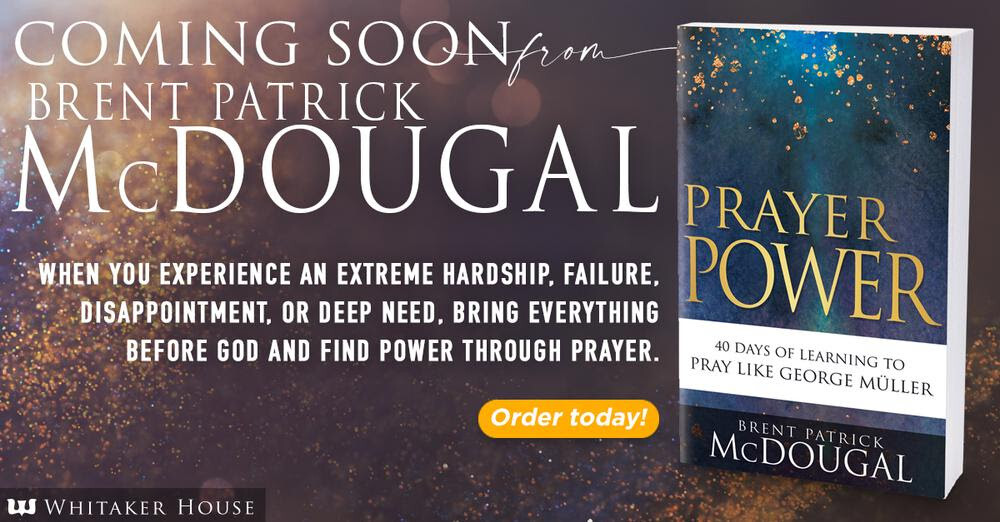 Dear First Baptist Family,
I am excited to announce the release of my new book today called Prayer Power: 40 Days of Learning to Pray Like George Müller.
Jesus taught much about prayer, but some of His teachings seem almost too good to be true. He talked about not being afraid to ask and believe that you will receive what you ask for (Mark 11:24). Perseverance in prayer was another key teaching that Jesus frequently emphasized (Luke 18:1; Matthew 7:7). He gave His disciples a model prayer in response to their request, "Lord, teach us to pray" (Luke 11:1-13).
During the pandemic, I felt led to devote more time not only to pray, but also to understand the nature of prayer. That exploration led me to study the life of George Müller, a 19th century pastor from Bristol, England who claimed to experience over 50,000 answers to prayer over his lifetime.
Müller saw miracle after miracle happen as he sought to live the kind of life that allows God's abundance to overflow. As I studied Müller's understanding and practice of prayer, I was personally transformed. I can say with confidence that I have now experienced more answers to prayer in the last two years than at any other time in my life.
I want others to have the same experience of having more power in prayer. That's why I wrote Prayer Power.
The chapters flow in an easy-to-follow format. I tell a personal story or current event vignette, then connect these stories to a scriptural truth about prayer. Next, I share an episode from Müller's life with an attendant teaching on prayer. Finally, I offer a takeaway principle and challenge the reader to pray.
The book breaks down into 6 sections that represent the 6 daily practices that can lead to greater power in prayer.
The first practice is complete dependence on God. Only when you know everything comes from God and is sustained by God can you approach God's throne with boldness and ask for what you need.
The second practice is abiding in Christ. This means the everyday trust and connection with God that Jesus gave his life to establish in you and me. Constant prayer, Bible study, sacrifice in service, and simple faith are all qualities of abiding in Christ.
The third practice is forsaking sin. Unless you are willing to turn away from known sin and seek God's holiness in all things, you may find that your prayers are blocked and without power.
The fourth practice is praying in the will of God. As you learn to pray in God's will, asking for what you need becomes a consistent alignment of your heart with God's heart.
The fifth practice is exercising faith. This means being willing to step out and follow God's lead, even when you don't know the steps beyond your sight. To exercise faith is to believe that God hears and is acting even before your prayer is answered.
The sixth and last practice is perseverance in prayer. Too many Christians give up too soon when it comes to prayer. We must learn to stay in prayer and trust that God is working as we ask again and again for what we need.
I hope this book will be a blessing especially for our church as we seek to understand and practice greater degrees of fervent prayer.
You can order it here.
May God grow our capacity and longing for prayer. May we be strengthened in God's presence for the difficult days ahead. May we be supported by God's grace as we expect great things from God and attempt great things for God.
Much love,
Dr. Brent McDougal
P.S. Please remember to pray for our church during these exciting days. On Wednesday at 6:00 pm, during our regular business meeting, I will be sharing up-to-date construction plans for the new children's renovation and also talking about The Generations Campaign effort to fund the improvements. Good days are ahead for First Baptist!