This spring, First Baptist hosted one of four offered Getting Ahead classes in Knoxville. Graduation was last Wednesday, May 17. Ten people graduated, five of those spoke about what the class meant to them.
"How did we get here? How do we get past this?"
These were the opening words of Richard Jones' speech at the graduation. Specifically, he was speaking for himself and all his class members, who, before Getting Ahead, found themselves in poverty with no way out. The words, however, are thoughtfully reminiscent of questions we have all asked ourselves at one point or another. How did I get where I am? How could I do what I did? Richard's answer was relatable to us all, as well.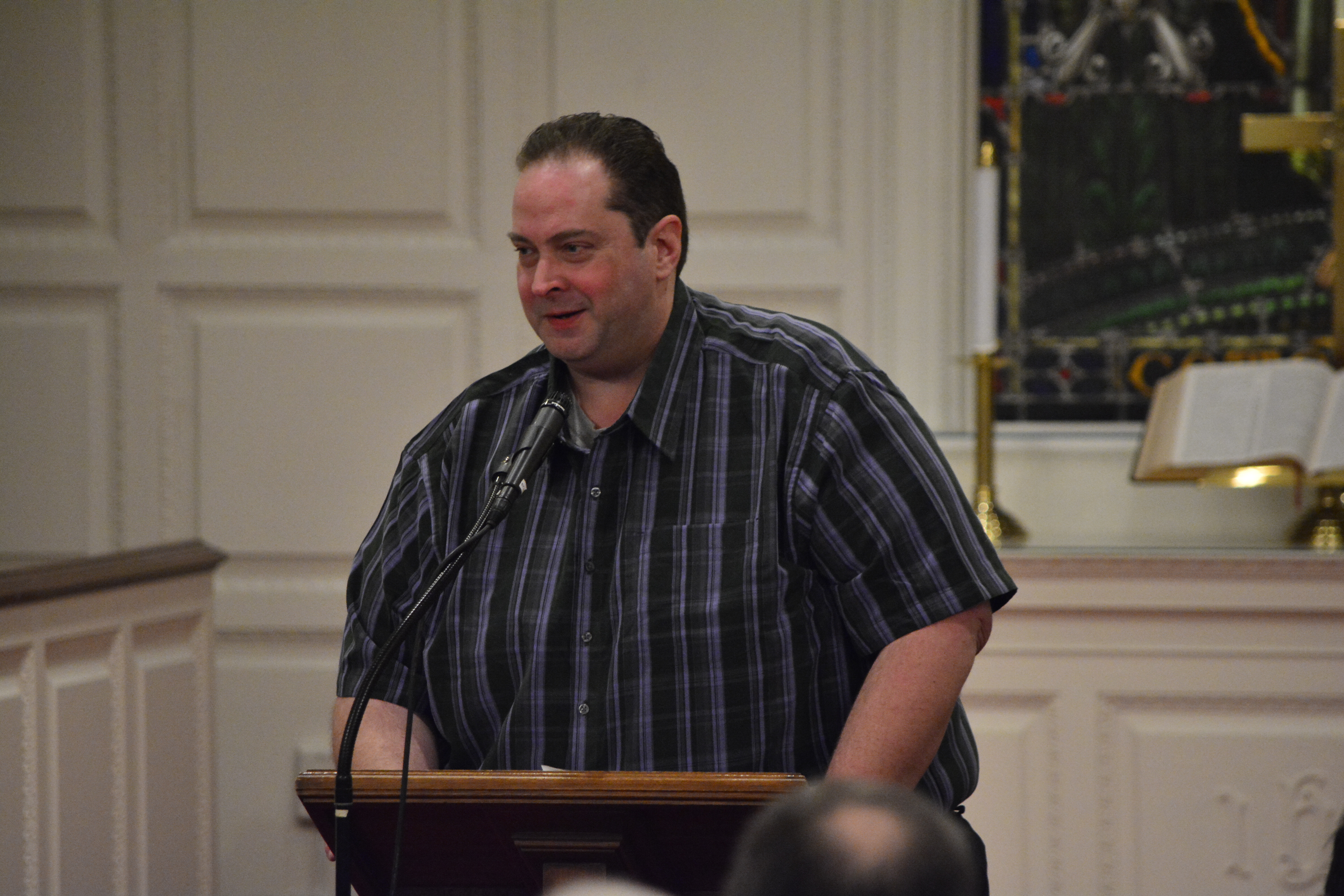 "Poverty isn't just a result of our individual choices," he continued, "but it's a result of community conditions, exploitation, and political and economic structures. That's where Getting Ahead steps in."
Getting Ahead is a 16 session program over the course of 8 weeks, where participants (called investigators) learn about the causes of poverty and its effects on them as individuals and on our community as a whole. They are then given tools to access their life, develop a plan, and bring about change. It is an offshoot of Bridges Out of Poverty – a training program through Compassion Coalition meant to educate the middle class and change their perspective on poverty.
Jim and Emily Plemmons, First Baptist members, facilitated this year's Getting Ahead class. However, they got their start with the program six years ago after Emily saw an advertisement for the Bridges training.
"The first line of the ad said, 'Do you ever wonder why people in poverty do the things they do?'" said Emily. "I looked at Jim and I said, 'I do, and I'm going.'"
Jim and Emily both went to the training. Emily said it was "mind altering" for them.
"We have this middle-class mindset," said Jim, "that if people would just get a job, they wouldn't be in poverty. But the Bridges training helps you see that people in poverty who are surviving day to day are problem solvers. They are creative. They are overcoming barriers that would be difficult for us to overcome if we were in similar situations. They already have the solutions for their success. We are just giving them the tools to make it happen."
Their new perspective sparked a passion in them and they immediately sought to bring the Bridges training and Getting Ahead to First Baptist. Six years later they have seen over 80 First Baptist members take the Bridges training and over 35 community members graduate from Getting Ahead.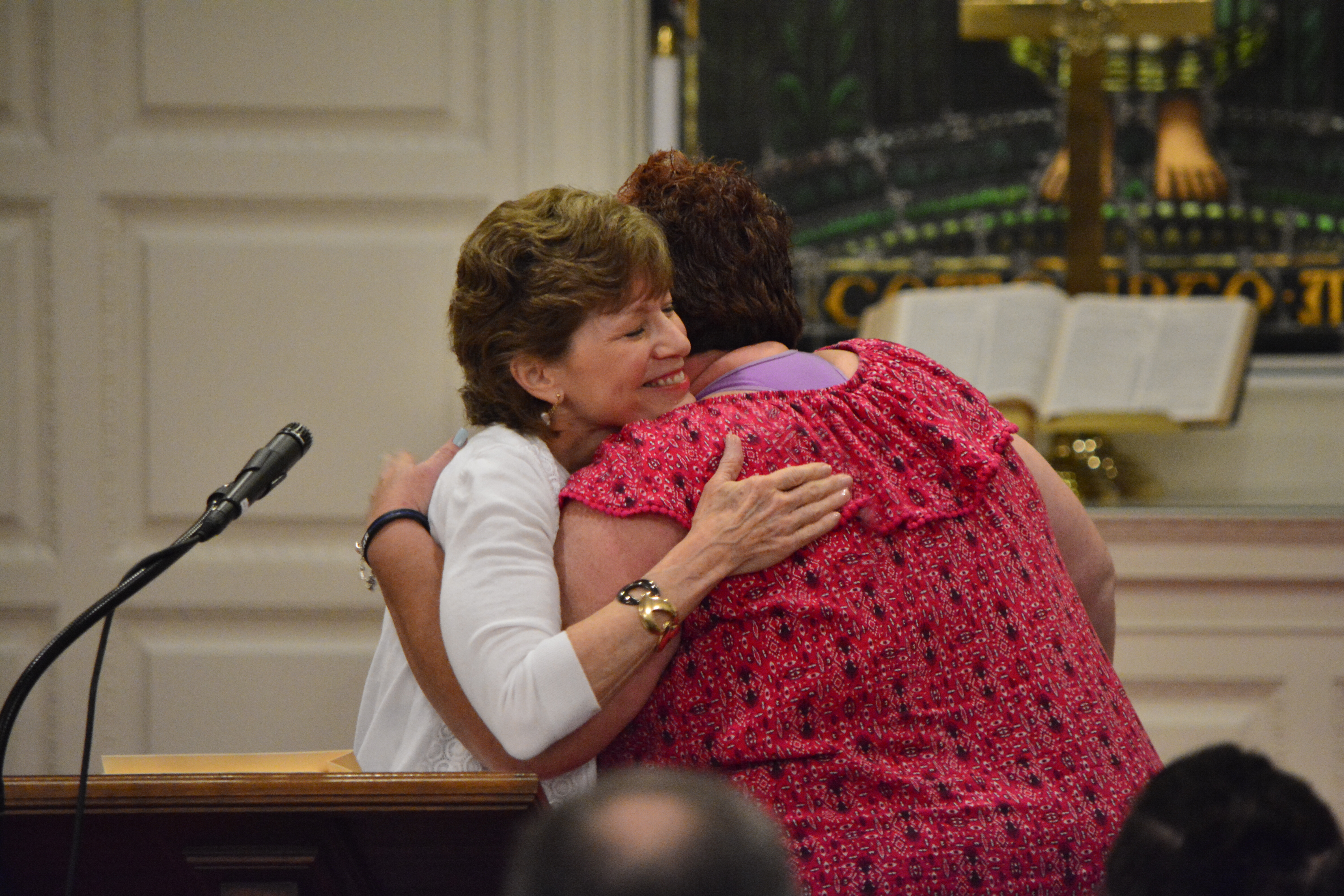 Emily has remained in contact with Getting Ahead members from across the years. She is always amazed at how their journeys progress from week one to week eight and after the class. They not only build a future plan, they build a network with their fellow class members.
"I appreciate the bond the people in the class form," she said. "Initially, people feel isolated in their situation, but in this class, there is a kind of camaraderie, and they come to think of themselves as a family."
The class graduates attested to that camaraderie in their speeches.
"In such a short time, we've become friends, family, and each other's biggest cheerleaders," Patricia Brown said. "I've seen how they've struggled but are slowly coming out of the dark and towards the light again."
"We started out as strangers, but tonight, our last night, we're friends. We're family," said Carla Cook.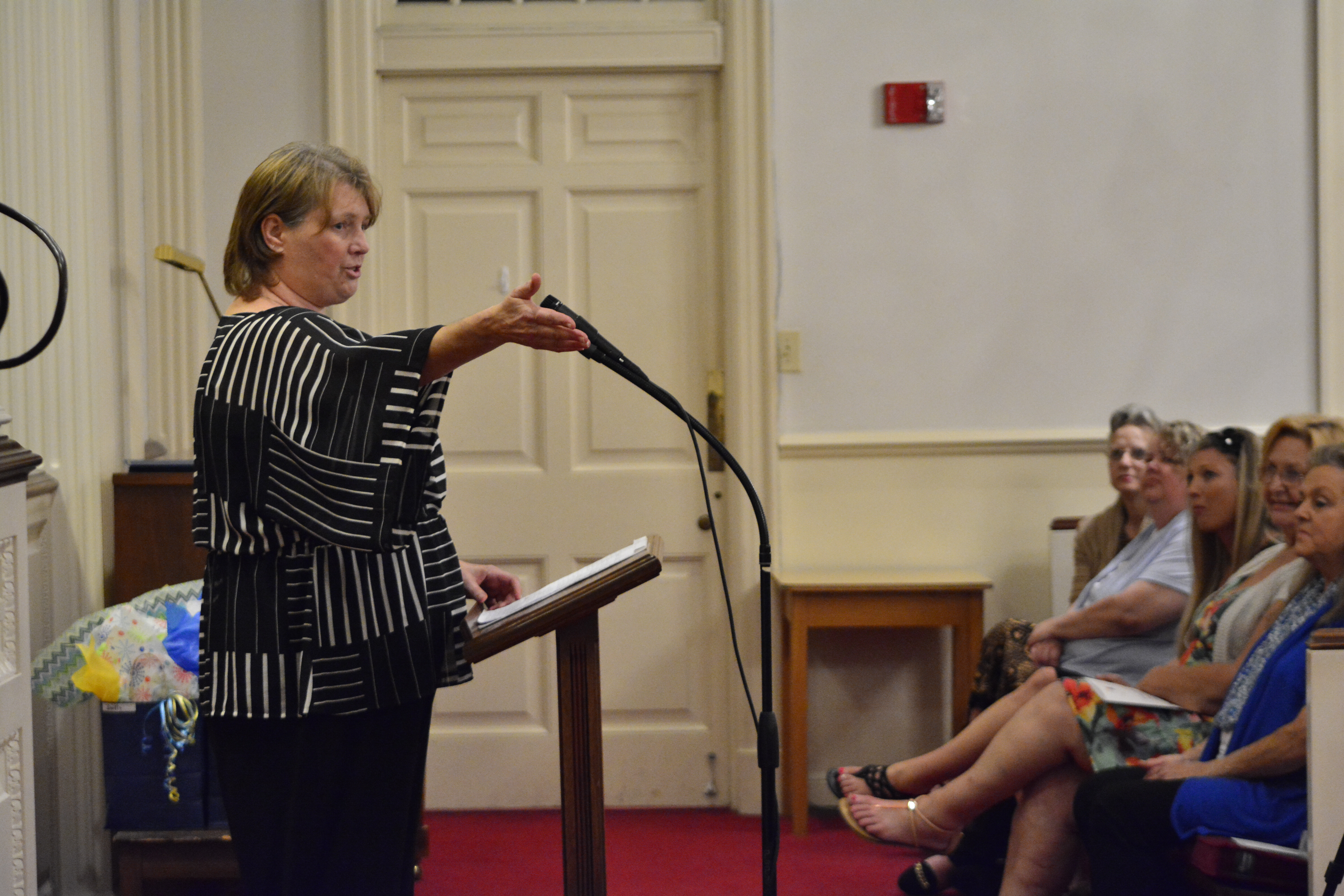 All the graduates displayed new perspectives on poverty and spoke of learning two very important things: poverty is not always completely the fault of the individual and with proper support and tools, anyone can overcome.
These themes, echoed in Richard Jones' opening words, are applicable to all of us. While circumstances sometimes cannot be avoided, they can always be overcome. Wednesday's graduates revisited this idea over and over.
Oneida Avila put it this way: "In the beginning, it was extremely difficult to share my story. I was worried what people would say about me. But I now know everyone has a story to tell. My life was very hard, but that has shown me that in every misery there is success, and with this class I have been open to a new opportunity. There is hope for each and every one of us, no matter who we are, where we are from or what we're going through."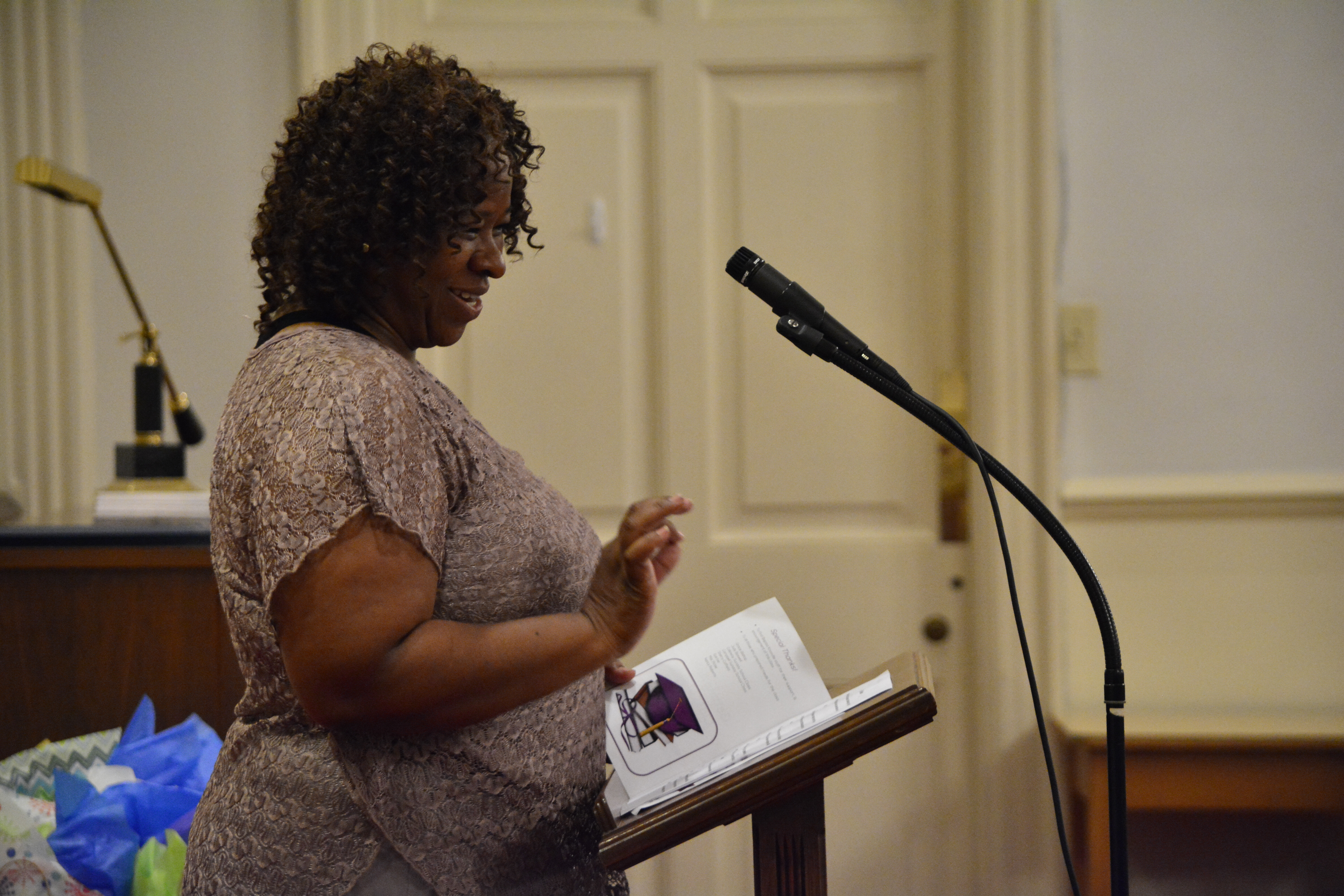 How did we get here? How do we get past this? These are questions asked by each one of us. The Getting Ahead graduates all answered the same way, with support, tools, and faith in God.
Patricia Brown closed her speech with a moving prayer of genuine thanks and faith. Her words resonated with everyone in the audience and are applicable to us now: "Because we know You, God, when the devil tells us we aren't something, we can say we are. And when he tries to tell us we are something, we can say we aren't."
The graduation was a lovely reminder for us all when we ask 'how do we get past this?' There is always a way out. It is through support and faith in God.
Thanks to our keynote speaker, Tom Ogburn. Thanks to Jim and Emily Plemmons for becoming what Patricia called "lifelong friends" to these graduates. Thanks to Grant Standefer of the Compassion Coalition for closing the service in a heartfelt prayer. Thanks to all who have supported these graduates and will continue to support them.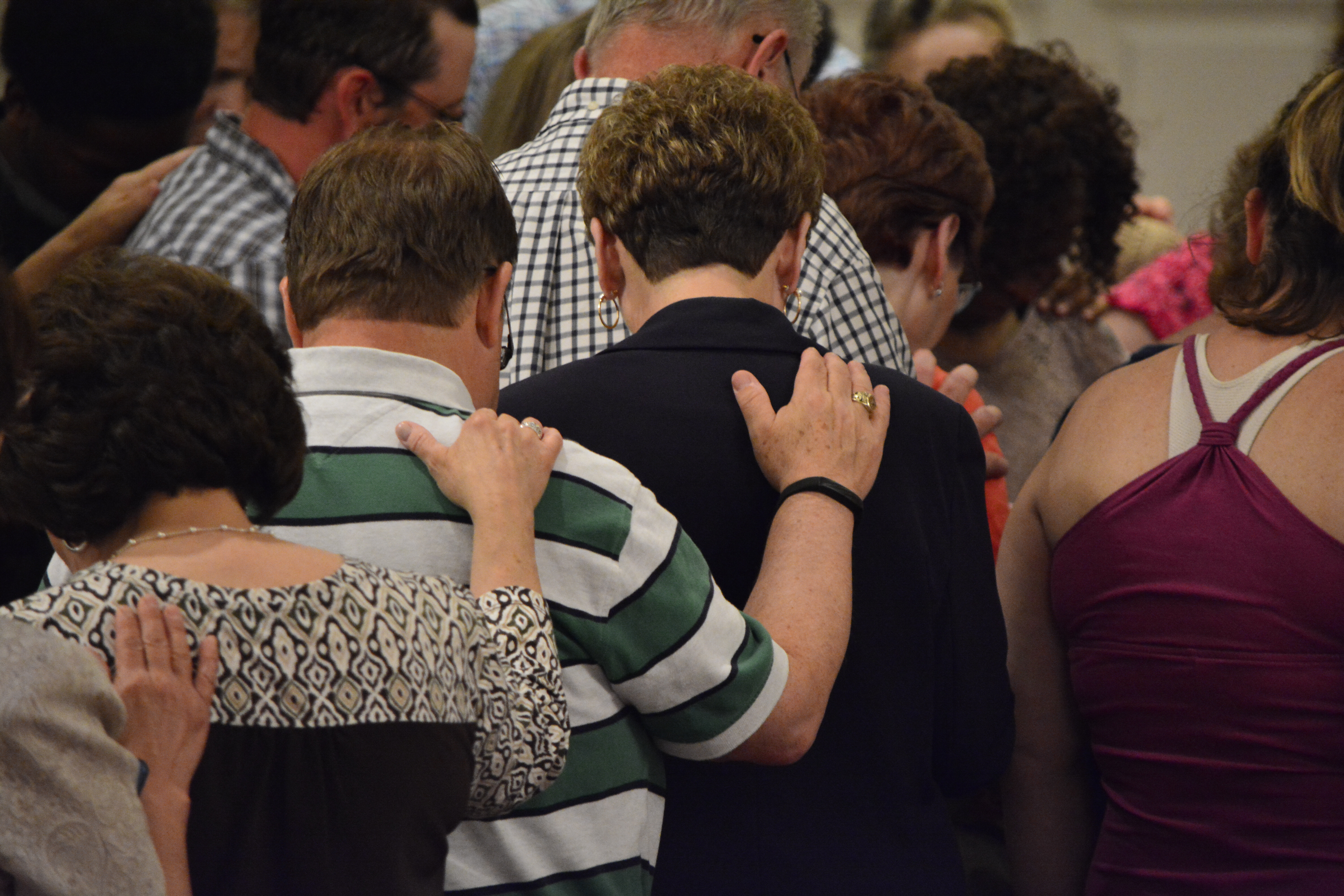 If you would like to get involved, First Baptist is looking for church members willing to build intentional friendships with our Getting Ahead graduates and future Faith & Finance class participants. Allies will need to have taken the Bridges Out of Poverty training and be available for follow-up conversations and simple friendship. We want to help build their social capital and support circles.
Please email Emily Plemmons at for more information on how to become an ally or take the Bridges training.