"God Chose You" and Other Thoughts on Women in Ministry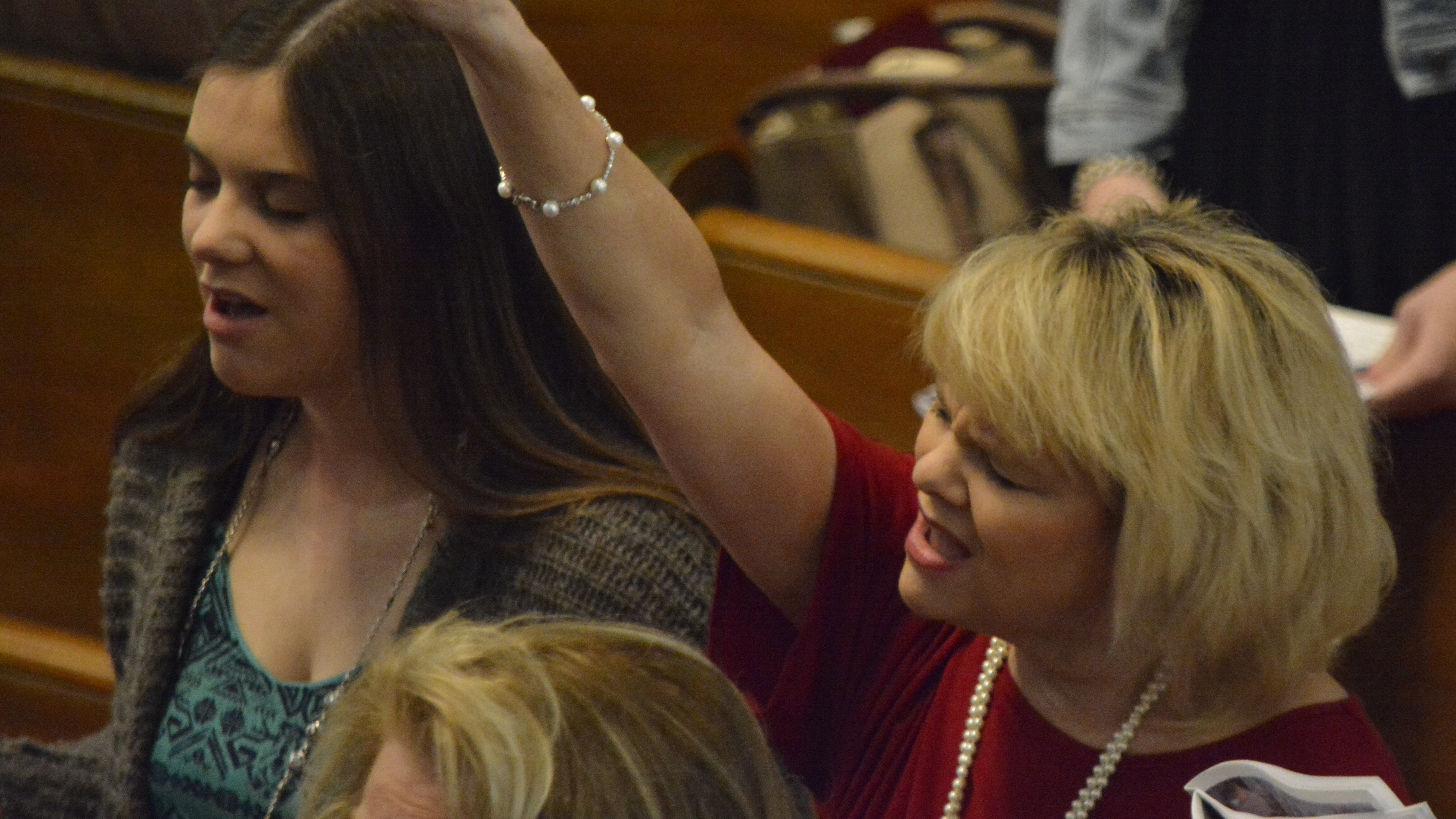 One Thursday a few months ago as I was leaving work, I remarked offhandedly to a colleague that I was headed to a deacons meeting. A puzzled expression passed over my friend's face. About 20 years my junior, she attends a large conservative church in Knoxville.
"You're going to Micky's deacon meeting?" she asked incredulously.
It was my turn to be confused. What did Micky have to do with anything?? Then it dawned on me. "I'm a deacon," I explained. "Micky is too."
"But wait, I thought you were Baptist."
"I am. We have women deacons at First Baptist."
My colleague was speechless.
Historically the Church's relationship with women has been a touchy one, and women have often found themselves subject to roadblocks when trying to serve God in a specific ministerial role. But, Baptist history is full of women who served God fearlessly and relentlessly, sometimes working within the strict dictates of the current culture and tradition, sometimes not.
The stories of our own women in ministry have a special poignancy as a lesson in following God. Here is a glimpse into the ministry stories of mother and daughter, Ann Love and Andrea Wheeler – longtime members of our congregation.
Ann Love has been an integral part of our music, children's, and youth ministries for years, but she did not know God was preparing her for ministry until after she had graduated from UT. Newly married with a degree in music performance, she found a church, settled in and started a youth choir. When the adult choir director left a short time later, she was asked to assume his position.
"I was honored and nervous all at the same time," she says. "My father was a band director so I was very familiar with directing and made an A in conducting at UT, but directing a church choir was totally different."
In navigating this new role, Ann leaned on her experience growing up in the music program at First Baptist Bristol.
"I had the most wonderful choir director possible," she says. "Miss Joann Feazell was an inspiring influence in my life, especially in my high school years. I had never been around someone with such strong faith! She taught me how important it was to sing from your heart and how God uses us to spread His message through song. So when I began my position as choir director, I began to realize that I was teaching my choir as Miss Feazell taught us. She definitely had a great influence not only in directing music but also in my faith walk."
Another strong female influence was the Christian singer, Sandi Patti.
"I have always loved singing, especially in church. But when I heard Sandi Patti for the first time, I realized how God could use me through singing," says Ann. "Bringing people closer to God through my voice has meant more to me than anything else. I thank God that He gave me that gift and to use it for His glory means everything to me."
Ann directed both the adult and youth choirs for a year and then was asked to start a children's choir as well. This expanded responsibility came with an expanded view of what her ministry was all about. When she saw children accepting Christ and youth growing in their faith, she realized God had called her to more than just choir directing.
Since then, in different cities and in different churches, Ann has been active in teaching children and youth. I am grateful both of my children benefited from her leadership in choir, where those annual musicals are one of my favorite memories. Ann also led them in Sunday School and countless youth retreats and mission trips.
When asked about obstacles she's encountered over the years, Ann remembers having to work hard to earn the respect of the elders in her first church. Being a female and being so young, she had to prove herself capable. In addition, her first few years were made challenging by the chair of the Worship Committee, a woman, ironically, who took issue with Ann being in a leadership position. Despite the unique challenges of being a woman in ministry, Ann says, "I don't think I would do anything differently. I feel God had the wheel and I just pushed the gas pedal!! I have done to the best of my ability everything He has asked me to do."
Unlike her mother, Andrea Wheeler determined early on that she was headed into ministry. By fifth grade she knew she wanted to be a counselor of some sort, and at a youth retreat in ninth grade, the powerful message of the camp pastor opened her eyes to the hurting and sadness of the kids around her.
"That's when it clicked," says Andrea. "I said OK, this is how I'm going to help. I want to work with youth."
For as long as she can remember, Andrea has been deeply enmeshed in the life of the church, and her call to ministry has been a natural result of church being "a huge part of our lives." When she wasn't attending Colonial Heights Methodist with her dad, she was at First Baptist with her mom.
"I had good influences in both places," she says. "Plus I got the perspectives of both Baptists and Methodists. Our youth group at Colonial Heights was very small, about 10 youth, and so I got to be a leader when I was a sophomore, and that was a great experience for me. But at First Baptist, I had the big group experience where we could go on mission trips and see the world."
Andrea believes one of the things she learned at First Baptist was that it's ok to ask questions. "Michael [McEntyre] and Lee [Fox] and Ben all encouraged us to ask questions. They were very accepting and never looked down on us because we were young or because of the kinds of questions we asked."
First Baptist has allowed Andrea to explore her calling by giving her the opportunity to be a ministry intern for two summers. Working with Susan Tatum one year and then Ben Winder the next helped her decide that she loved working in small groups with high schoolers where "you can dig a little deeper."
"The only obstacle I've encountered so far has been me - my issues, what I think that other people think," says Andrea. "So far, being looked down on because I'm a woman hasn't happened, because I've grown up at First Baptist."
Andrea has just finished her junior year at the University of the Cumberlands where she is working on a degree in youth and family counseling with a minor in psychology. There, she has also found encouragement and support in pursuing her call.
Some parents might wish their daughter would explore a vocation that is less fraught with obstacles and hardship. How does Andrea's mom view her daughter's aspirations?
"I could not be more proud and excited for her," says Ann. "I cannot wait to watch how God uses her!! She has a passion for youth ministry and will do a fantastic job leading youth to Christ and helping them in their walk with Christ!"
And what advice would Ann offer Andrea and other young women considering ministry as a vocation? First, she says to choose a seminary that supports female ministers. This may seem patently obvious, but it reminds me of my daughter Laura Beth's experience when she returned from her summer missions assignment in Argentina a few years ago. Attending a debriefing in Nashville with all the other summer missionaries, she received the shock of her young life. She was told that in order for a married woman to be an international missionary with the IMB, her husband needed a seminary degree. Quite certain she had misunderstood, she asked the speaker to repeat the statement.
"I asked like 4 follow-up questions," said Laura Beth. "And I kept getting the same response: The woman can take some classes if she wants, but the man has to have the seminary degree. And I was thinking, wait!! You people just sent me to Argentina BY MYSELF! I kept looking at everyone around me, wondering why they weren't outraged by this, and they were just nodding like yeah, ok, that makes sense...."
Second, Ann says to remember that there will be obstacles but God is the one who you to ministry! She advises young women to "stay strong" because "God chose you!!"
Preach, sister. I think those are good words for all of us, regardless of our gender or vocation.
For many years now, I have taken for granted how First Baptist supports women in ministry. Raising my children here, it never really occurred to me to have conversations with them about how other churches and denominations may view women. I am grateful that seeing women in positions of leadership is such a commonplace thing at our church that no one gives it a second thought. I am also grateful for the way our church actively supports future ministers, men and women alike, through our intern program. May it ever be so.